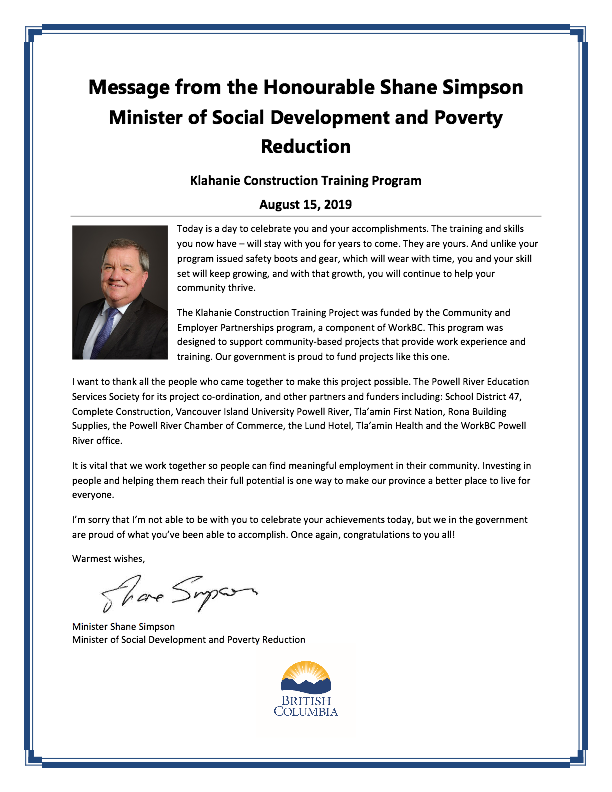 Project Based Labour Market Training (PBLMT) is a component of WorkBC Community and Employer Partnerships. Under the PBLMT model, group skills training is delivered through a holistic and collaborative community approach that is designed to meeting the employment needs of participants in a supportive environment.
PBLMT provides funding to organizations to assist with local projects that provide a combination of on and off the job employment training to eligible participants, to help them obtain sustainable employment. Projects are developed using a collaborative approach between community organizations, employers and WorkBC Employment Services Providers, and benefit the participant, community and the local labour market, with a primary focus on helping participants.
In 2018 PRESS received funding to deliver the Klahanie Construction PBLMT within the traditional territories of Tla'amin Nation. The project brought together a highly motivated group of people and provided them with the training, workplace skills, and on-site experience they need to be able to get and succeed at jobs in Powell River's rapidly growing construction sector.
The Klahanie Project is based on a training and partnership model that provides benefits to both individuals and to the local community. On an individual level, the project enhances participants' employability skills by offering relevant, certified training in a supportive environment, in partnership with organizations and businesses throughout the qathet Regional District. At the community level, the skills that participants are acquiring through the project are desperately needed in the local construction and renovation sector, where there is a shortage of workers.
The Klahanie Project is centred around the construction of three houses on Klahanie Drive on lands belonging to Tla'amin Nation – the first stage of a larger housing development planned by Tla'amin.  In addition to the project at Klahanie, other partners in related businesses, including subcontractors and retail, work with the participants during the project, and are willing to offer employment to the participants when they have successfully completed training.
The skills that the Klahanie project focuses on will lead to secure, well paying jobs for those who master them. As well, the Klahanie Construction PBLMT will help to build stronger connections between Tla'amin Nation and the businesses of the Powell River region.